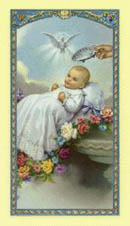 Baptism
Baptism is the first sacrament of Christian initiation and the gateway to life in the Spirit. In Baptism, we are born again of water and the Holy Spirit as children of God. Baptism makes us part of the new creation, members of Christ's Body and heirs of the Kingdom of Heaven.
(more)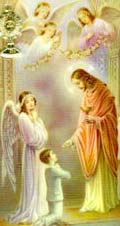 Holy Eucharist
At the Last Supper, our Saviour gave to us the wonderful gift of the Eucharist as a continual reminder of His presence among us. For 2000 years the Catholic Faith has continued His mandate to "do this in memory of me," teaching that the Eucharist is to be the source and …
(more)
Marriage is a covenant or partnership for life between a man and woman. God made this covenant for the well-being of the spouses, as well as the procreation and upbringing of children. When validly contracted between two baptized people, marriage is a sacrament.
(more)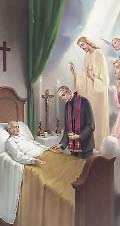 Anointing Of The Sick
The Church seeks to continue the healing ministry of Christ on earth, bringing His love and compassion to those who are sick and suffering. This healing ministry is especially carried out in the Sacrament of the Anointing of the Sick. From the beginning, the Church has given special care and attention to the sick and infirmed. (more)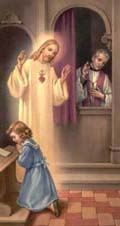 Reconciliation
Through the three sacraments of initiation (Baptism, Confirmation, and the Eucharist) we enter into the new life of Christ, but we carry this life in earthen vessels and remain vulnerable to sin. Baptism for the remission of sins is the foundation of our Christian life, but the Lord has given us the Sacrament of Reconciliation to forgive sins committed after Baptism.(more)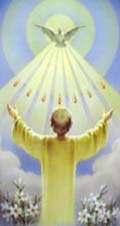 Confirmation
Confirmation is one of the three sacraments of initiation, along with Baptism and Eucharist . These are the sacraments whereby a Christian is initiated into the life, death, rising and ascension of Jesus Christ. It is also an initiation into the life of the Spirit, into the Church and, into the holy things of God.
(more)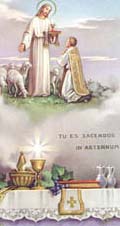 Holy Orders
In Baptism, we are welcomed into the Common priesthood of Christ and are invited to do our part to build up God's Kingdom here on earth. There are, however, some who are called to serve Christ in a special way through the ministerial priesthood of Christ.
(more)