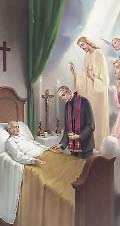 The Church seeks to continue the healing ministry of Christ on earth, bringing His love and compassion to those who are sick and suffering. This healing ministry is especially carried out in the Sacrament of the Anointing of the Sick. From the beginning, the Church has given special care and attention to the sick and infirmed. This is best shown in the Letter of James who writes, "Is any among you sick? Let him call for the priests of the Church, and let them pray over him, anointing him with oil in the Name of the Lord; and the prayer of faith will save the sick man, and the Lord will raise him up; and if he has committed sins, he will be forgiven" (James 5:14-15).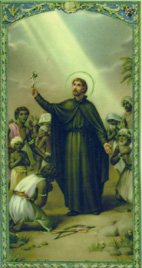 In this sacrament, a person is anointed with oil and prayers are recited asking God to bring about healing of body and soul. It is meant to give those who are seriously ill support, encouragement, and comfort. This sacrament provides those who are sick an opportunity to open themselves to the healing power of God's grace and to continue to grow in wholeness.
Illness can be a very frightening and isolating moment in a person's life when their faith is challenged. In this Sacrament a person receives the grace which allows them to accept their situation in life, knowing that Gods is with them. They are united more closely to the suffering of Christ, strengthened to endure their own suffering with peace and courage, and are forgiven of any sins that were not previously forgiven in the Sacrament of Reconciliation.
Who Can Be Anointed?
Those who are elderly and whose frailty is becoming more pronounced.
Those who are facing a serious operation, serious medical tests, or have suffered a serious accident.
Those who suffer from chronic illness, or who suffer a serious mental illness.
When And How Often Can One Celebrate This Sacrament?
The Sacrament of the Anointing of the Sick should be celebrated at the beginning of a serious illness. If during the same illness the person's condition worsens, the sacrament may be repeated. If a person who has been anointed recovers from sickness, that person may celebrate the sacrament again in the face of another grave illness.
If you or someone you know would like to celebrate the Sacrament of the Anointing of the Sick, you are asked to contact the Parish Office at 416-438-6729.