1. SINCE

FEBRUARY 15 (MONDAY)

IS A HOLIDAY, BOTH THE OFFICE AND THE CHAPEL WILL BE CLOSED.
2.

FEBRUARY 17 – ASH WEDNESDAY:
   a) THERE WILL BE THREE SERVICES ON ASH WEDNESDAY:
        8:00-9:00 A.M.
        12:00-1:00 P.M.
        5:00-7:00 P.M.
   b) AS PER THE DIRECTIVE GIVEN BY THE VATICAN AND THE
       ARCHDIOCESE, ASHES WILL BE SPRINKLED ON THE HEAD,
       NOT APPLIED ON THE FOREHEAD
   c) BECAUSE IT IS THE START OF THE PENITENTIAL SEASON OF
       LENT, ASH WEDNESDAY IS A DAY OF

FAST

AND

ABSTINENCE

.
   c1) THE LAW OF

FASTING

(Eating only one full meal and two
        smaller meals during the day) COVERS THOSE WHO HAVE
        REACHED THE AGE OF

18

UP TO THE BEGINNING OF THEIR
   c2) ABSTINENCE (Not to eat meat especially on the Fridays of
        Lent and on Ash Wednesday) COVERS THOSE WHO HAVE
        REACHED THE AGE OF

14.

THERE IS

NO MAXIMUM AGE

FOR
        ABSTINENCE.
IT HAS COME TO MY ATTENTION THAT A SCAMMER HAS BEEN SENDING EMAILS TO PEOPLE, PURPORTEDLY COMING FROM ME, VIA GMAIL.
I DO NOT USE GMAIL, SO IF YOU RECEIVE ONE SUCH EMAIL, PLEASE GNORE IT
IN ORDER TO ENCOURAGE MORE PEOPLE TO STAY HOME DURING THE LOCKDOWN, STARTING JANUARY 24th, THE SUNDAY COMMUNION SERVICE WILL ONLY BE UNTIL

12:00

NOON

, INSTEAD OF 2:00 P.M. WE WILL CLOSE THE DOORS OF THE CHURCH AT EXACTLY 12 NOON.
WEEKEND COMMUNION SERVICE SCHEDULE

:
SATURDAYS – 5:00 TO 6:00 P.M.
SUNDAYS – 8:00 A.M. TO 12:00 NOON.
EVEN THOUGH THE ADORATION CHAPEL IS OPEN FROM 9:00 A.M. TO 7:00 P.M., AND EVEN THOUGH COMMUNION SERVICE IS HELD ON WEEKENDS, WE HIGHLY ENOURAGE YOU TO

STAY HOME

DURING THE LOCKDOWN.
INSTEAD OF COMING TO THE CHAPEL TO PRAY, FEEL FREE TO

PRAY AT HOME

.
RATHER THAN COME ON WEEKENDS FOR COMMUNION, YOU MAY OPT TO DO A

SPIRITUAL

COMMUNION

AT HOME INSTEAD.
SPIRITUAL COMMUNION PRAYER:
My Jesus, I believe that You are present in the Most Holy Sacrament.
I love You above all things, and I desire to receive You into my soul.
Since I cannot at this moment receive You sacramentally, come at least spiritually into my heart. I embrace You as if You were already there and unite myself wholly to You. Never permit me to be separated from You. Amen.
LATEST UPDATE FROM THE ARCHDIOCESE

:
CARDINAL COLLINS ANNOUNCED THIS AFTERNOON THAT PARISHES MAY OPEN THEIR CHURCHES/CHAPELS FOR PRIVATE PRAYERS. MOREOVER, WEEKEND COMMUNION SERVICES MAY CONTINUE TO BE HELD.
ALLTHE NECESSARY HEALTH PROTOCOLS SHOULD BE OBSERVED: THERE SHOULD BE A MAXIMUM OF 10 PERSONS INSIDE, AND MASKS, WHICH SHOULD COVER BOTH THE NOSE AND THE MOUTH, SHOULD BE WORN AT ALL TIMES.
DUE TO THE LOCKDOWN IMPOSED BY THE PROVINCIAL GOVERNMENT, CONFESSIONS  (STRICTLY BY APPOINTMENT ) WILL ONLY BE HELD ON SATURDAYS FROM 4:00-6:00P.M. PLEASE CALL THE OFFICE TO BOOK AN APPOINTMENT.
DUE TO PROVINCIAL RESTRICTIONS, EFFECTIVE MONDAY, NOV. 23, 2020:
-      ALL PUBLIC MASSES ARE CANCELLED UNTIL FURTHER NOTICE.
- WE ARE CURRENTLY CELEBRATING DAILY PRIVATE MASSES FOR THE INTENTIONS OF PARISHIONERS.
- FUNERALS, WEDDINGS (WITHOUT MASS) AND BAPTISMS ARE RESTRICTED TO 10 PERSONS, INCLUDING THOSE WHO ARE INVOLVED IN THE MINISTRY (PRIEST, CANTOR, ETC.)
-FEEL FREE TO DROP OFF YOUR DONATIONS AT THE OFFICE OR PUT THEM IN THE DROP BOX LOCATED AT THE FRONT DOOR OF THE OFFICE.
-STAY SAFE AND HAPPY NEW YEAR TO ALL OF YOU.
Sunday Masses (
PUBLIC MASSES ARE CANCELLED TEMPORARILY DUE TO PROVINCIAL RESTRICTIONS.)
Vigil Mass (Saturday)
5:00 p.m.
Sunday
7:30 a.m., 9:00 a.m.,
10:45 a.m., 12:30 p.m. & 4:30 p.m. (Service in Vietnamese)
Weekday Masses
Monday, Wednesday, Friday
7:30 a.m., 7:00 p.m.
Tuesday & Thursday
7:30 a.m., 12 Noon
Saturday &
Statutory Holidays
8:30 a.m.
Reconciliation
Confessions Before Every Daily and Sunday Mass ( CONFESSIONS ARE ONLY ON SATURDAYS, FROM 4:00-6:00 P.M., DURING THE LOCKDOWN)
Exposition of the Blessed Sacrament
The Chapel is open Monday, Wednesday, & Friday
from 9:00 a.m. – 7:00 p.m.,
Tuesday & Thursday from 9:00 a.m. – 7:00 p.m.
Saturday 9:00 a.m. – 3:45 p.m.  Sunday – CLOSED
Parish Office Schedule (
OFFICE SCHEDULE WHILE WE ARE ON LOCKDOWN)
| | | |
| --- | --- | --- |
| Monday to Friday | | 9:00 a.m. to 5:00 p.m. |
| Saturday | | 10:00 a.m. to 6:30 p.m. |
| Sunday | | 8:30 a.m. to 2:00 p.m. |
| Holidays | | CLOSED |
| ON ALL DAYS | | Closed for Lunch, 12 noon to 1 pm |

We, the people of St. Rose of Lima Parish, are called to build a Catholic community of disciples of Jesus Christ. Nurtured by the Eucharist and inspired by the Holy Spirit, we dedicate ourselves to:
Foster life-long faith formation and spiritual growth
Encourage one another to live in Faith, Hope, and Love
Invite our neighbours to share in the Good News
Reach out to the needy and work for social justice.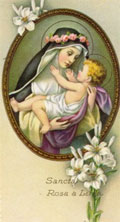 In carrying out this mission, we will demonstrate the love that we have for God by the community we create with each other and our response to the needs of our neighbour.